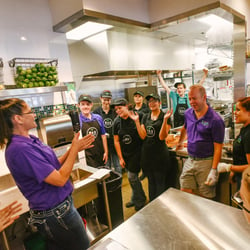 One of the most common responses we hear from managers in the airports we serve is:
"We are understaffed and we can't afford to send our employees to classroom training."
Although the managers we work with do realize that an informed and upskilled employee is worth their weight in gold, it is often difficult to make time for employees to reach that goal.
Well, where there is a will, there is a way! So, in response to this, CSE has engaged in a method of learning called micro-learning.
In our world of social media, most everything we consume is done so in small bytes. This is how people have been conditioned to receive their information- so why not apply it in the field of training as well?
Addressing both the way in which people receive their information, and the lack of time and resources for traditional classroom training, micro-learning hits on all cylinders. CSE's version of micro-learning focuses on one concept, brings the learning to the location, in real-time, and solves the issue of airport employee training.
What does this look like in the airport?
Our CSE trainers target in-store training by identifying the associates' customer service skill gap through mystery shop evaluation metrics. Then, our trainers visit a location in the airport during a slower time, and pull together a group of employees for the purposes of training on a specified concept designated to address the skill gap.
The learning happens through discussion, portable learning tools, brief activities, role-plays, observation and coaching, pre-shift huddles, etc. Then the employees have the opportunity to apply their knowledge right there in the store with real customers and associates. Additionally, the CSE trainer has the opportunity to coach the employee on their performance. It is an extremely effective method of learning, and a win-win for everyone.
This method can be applied to many different situations. Cash register procedures, cash handling, policy changes, airport renovations and or closings openings, gate changes, hiring practices, badging process, etc. - all are awesome opportunities to bring micro-learning to your staff. Whether it is a new Human Resources policy, presentation of quarterly goals, or improving communication skills, consider "chunking" your content into micro bits and delivering it on-the spot.
Airport employee training is much more manageable with micro-learning, because it addresses the many challenges that exist in airports. For more information on how CSE can help you upskill your airport employees, contact us!
For more resources on how to provide training for employees in your airport, see the resources below: